Driving instructor training Alblas Academy
Do you want to become a driving instructor? The Alblas Academy trains you.
The job market for driving instructors is good
As a driving instructor, you can go in any direction. Personally, our driving school needs driving instructors on a regular basis. The demand for well-trained and skilled driving instructors remains high.
Our colleagues know that Alblas instructor training guarantees quality. The standard is high, even when the going gets tough.
Admission requirements for the driving instructor training program
To take a driving course you need:
A valid driver's license B (car)
a school diploma: at least VMBO theoretical or mixed diploma (or a comparable foreign diploma)
The age of at least 18 years
a VOG: this is a certificate of good conduct that you can apply for at the municipality
a passport or identity card
In addition to these requirements, Alblas has some admission requirements to keep the level high. These include:
A MBO level of thinking, obtained through study, work or life experience
motivation and commitment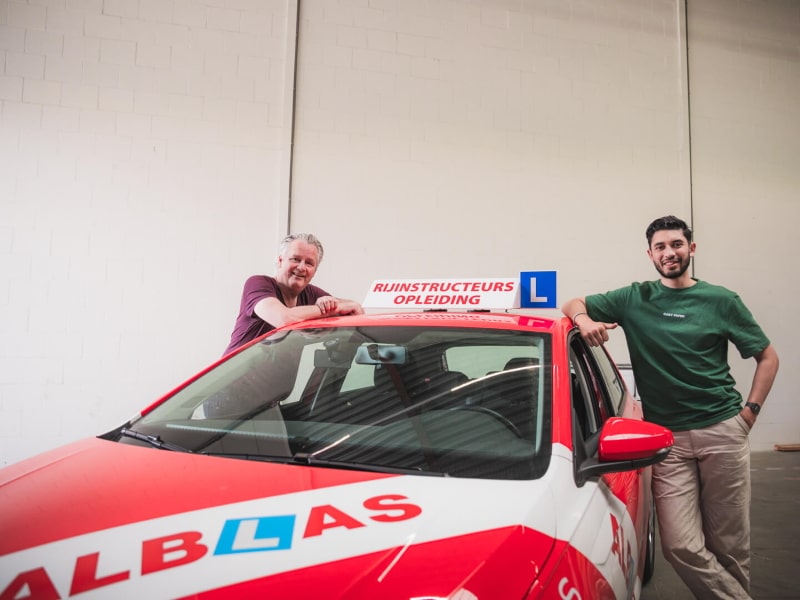 The driving instructor training program at Alblas
Alblas has developed a teaching program that, in addition to theoretical training, pays a lot of attention to practice, more so even than the average course. Driving instructor training is specifically designed to keep Alblas' team of driving instructors at a high level. Of course, we prefer to employ experienced driving instructors.
You always start with training for the car (the WRM-B certificate). Then you can continue learning to provide instruction for other licenses, such as motorcycle or tractor.
Once you pass your degree, with a normal education it takes at least 5 years before we can talk about experience.
At Alblas you gain a lot of practical experience from the beginning. You will be assisted by highly experienced all-round instructors. As a result, shortly after graduation, you can already call yourself an experienced driving instructor.
Our WRM-B training is recognized by the Central Register for Short Professional Education (CRKBO). The UWV also considers Alblas Verkeersschool a recognized training institute for driving instructors.
How long does the training last?
The training takes 34 hours a week for three months. During that period, you cannot take a vacation.
The cost of training
You pay the cost of instructor training yourself, but don't worry:
if you have benefits, the UWV may well be willing to pay for your education.
The UWV recognizes Alblas Verkeersschool as a trainer.
We do not have to charge VAT because our training is CRKBO-approved; this saves 21% if you cannot normally deduct VAT (if you have your own business, you can sometimes do so)
we can agree on an arrangement where you only pay a co-payment of €1000, and the remaining costs are settled later through your salary
training costs are tax deductible in some cases
Job guarantee
Alblas Verkeersschool intends to employ you after training.
We may also transfer you to another driving school. In that case, they will reimburse us for your training expenses.
Learn more
For questions, contact can be made through the following information:
phone: 0880 241 888
email: d.korlas@alblas.net